Global Missions Forum | The Challenges and Aspirations of Christians in Palestine
February 15 @ 6:00 pm

-

8:30 pm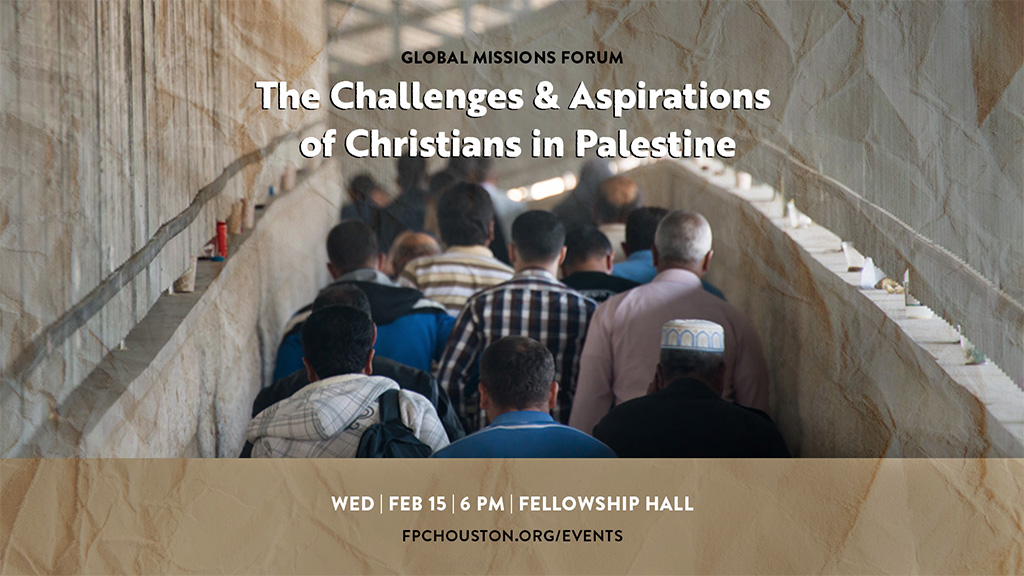 How does one keep the faith in the midst of hard circumstances, checkpoints, walls, and bloodshed?
Come listen to the experience of Christians in Bethlehem and learn from their resilience. These Christian leaders who serve among Palestinians will give a local look at the Holy Land from a biblical perspective. Their stories of Bethlehem Bible College and Dar Alkalema University serve as beacons of hope in the midst of hopelessness.
We will learn from Bethlehem Bible College President, Dr. Jack Sara, Academic Dean and Christmas Evangelical Lutheran Church pastor, Rev. Dr. Munther Isaac, and Rev Dr. Mitri Raheb, Founder and President of Dar al-Kalima University in Bethlehem and pastor of Christmas Evangelical Lutheran Church.
6 PM- Registration and Refreshments
6:30 PM- Program
8 PM- Q&A and Reception
If you would like to attend please RSVP with Mary-Floye Federer at mffederer@fpchouston.org.
Related Events